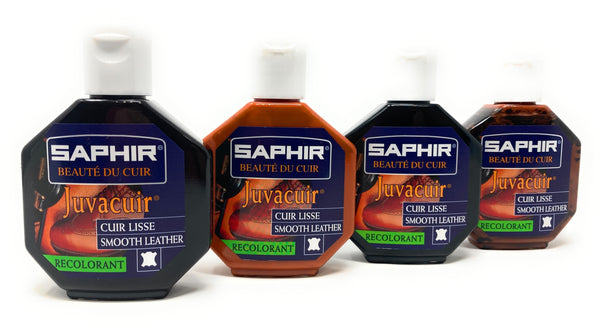 Saphir Juvacuir Smooth Leather Colorant - Repair Cream for Shoe Restoration
Saphir Juvacuir Smooth Leather Colorant - Repair Cream for Shoe Restoration
LEATHER COLORANT: Saphir's Juvacuir leather colorant is perfect for restoring smooth leathers that have become faded over time from wear and tear. The cream will not rub off or water down as it is very resistant.

EASY-TO-USE: The leather cream is fluid and easy to apply for occasional restoration. Just match the cream of the color to that of your leather good, or you can mix multiple colors to create a custom hue.

VARIETY: A variety of items can be recolored using the Juvacuir cream, including shoes, clothing, luggage, and furniture. If your product is made of smooth leather, then it can be restored using the repair cream.

COLORS: The Juvacuir colorant comes in a wide variety of colors including black, light brown, medium brown, and dark brown. The 75 ML bottle contains enough product for an average-sized leather jacket.